Salesbox was a startup that recognized the gap between traditional CRM systems and the needs of salespeople. It aimed at providing an end-to-end system on mobile and web developed by salespeople for sales, customer management and marketing. Salesbox wanted to build a CRM system on Amazon cloud so that they could easily provide CRM solutions to clients all over the world like Salesforce but with less configuration.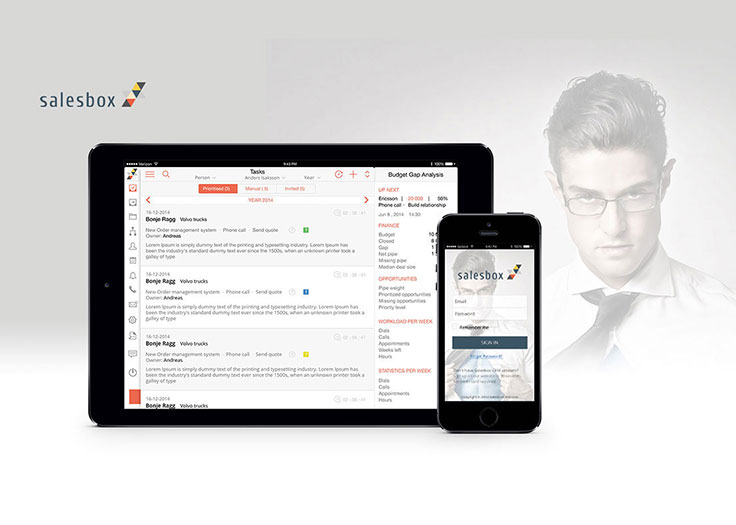 Salesbox's first challenge was designing the architecture for a multi-tenant system with high scalability and capability on the cloud. Salesbox needed to support multiple platforms including Android, iOS, and Web. All platforms had to connect with one back-end to synchronize the content among all users. Salesbox had to integrate with most tools used by salespeople such as calendars, email, contact lists, and task management.
Early stages of implementing a startup idea are difficult, full of unexpected issues and changes. The project required adaptability, teamwork and seamless communication between the business owner, marketing team and developers. The 5-hour time difference between Sweden and Vietnam also added to the difficulty.
Our team demonstrated their ability, expertise and dedication from the very early days of the project. The team gave valuable recommendations to improve system design and operability. Salesbox has trusted GEM with 100% of the IT development work and the quality of our work has directly and enormously affected the business success. GEM provided Salesbox with almost 24/7 service. Our developers were ready to answer phone calls day and night, schedule meetings at Salesbox's convenience and adapt to any changes. Our commitment to Salesbox's success meant long days and often working through the night.
Salebox is one of the most popular CRM's in North America and Europe. Salesbox was awarded "Best Sales CRM 2016", and "Best Newcomer Sales CRM 2017" at the Sales Innovation Expo.